Lodging In Long Beach, WA
Our lodging in Long Beach, WA provides guests with incredible views, plush beddings, and a host of in-room amenities designed to make each visit to the Lighthouse Oceanfront Resort an unforgettable one. Whether you're looking to enjoy a romantic getaway or planning a family or group trip to the beach, we have the perfect suite for you.
We feature a number of suites, ranging from 1 to 3 bedrooms in each. All of our suites come equipped with king-sized beds in the master bedroom, along with sofa beds, full kitchens, gas fireplaces, and spacious living areas. A large selection of our hotel suites feature stunning ocean views.
Our vintage-style cottages provide guests with a sense of nostalgia while remaining well-equipped with all the modern amenities needed to enjoy a comfortable stay. Choose from either a 1 or 2 bedroom cottage, and enjoy amenities like a kitchenette and semi-private patios.
All of our guest rooms are dog-friendly! Let us know in advance that you'll be bringing your dog along for your trip and we can set you up in a dog-friendly room. Check out our policies page to learn more about our dog-friendly hotel.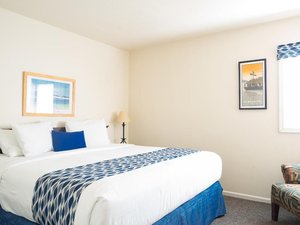 Group Bookings
Our spacious lodgings in Long Beach, WA provide the perfect accommodations for groups traveling to the area. Whether you're in town to participate in a tournament at our Tennis Center, participating in a corporate retreat, or attending one of Long Beach's legendary events, we provide a room block rate that will allow you to enjoy an affordable, accommodating stay with us.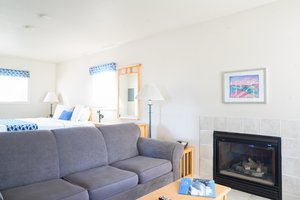 Accessibility Features
We are happy to offer an accessible room at the Lighthouse Oceanfront Resort. This ground-floor suite features ramps and a studio-style layout for easy mobility.
Book your stay in our spacious lodgings in Long Beach, WA today!